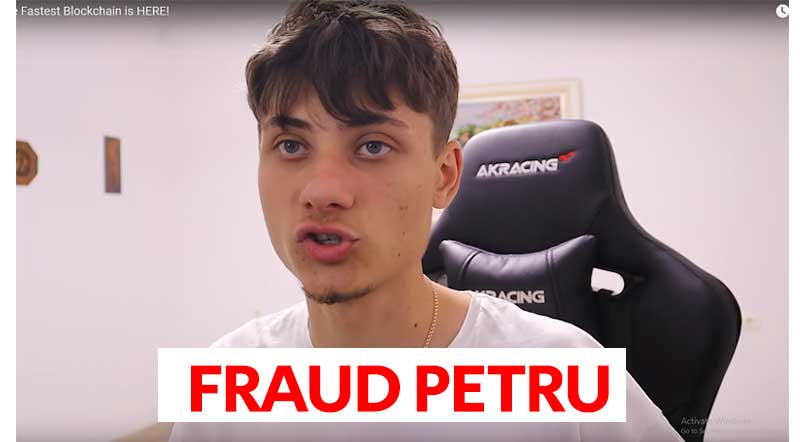 This article is to expose an 18-year-old Youtuber Mr.Petru Pereu who claims to be a Crypto Youtuber but in reality, This 18 year's kid is a Fraudster and Scammer. The overall purpose of this article is to make others aware that they should not provide service to this self-proclaimed Crypto YouTuber who owes us our service Fee of YouTube Verification. If you are a Brand or Crypto startup and looking to collaborate with him for Paid campaign then beware of him. He has done fraud with many people in terms of paid promotion on his YouTube Channel. Also, most of the Subscribers and views in his videos are fake too which we only delivered it.
We are a PR agency offering various PR Services that include Feature Articles, Social  Media Verification, Online Reputation Management, and Youtube Verification. We successfully got his Youtube Channel verified [https://www.youtube.com/c/CryptoFlash ] with 27k followers which were not eligible for verification for which he has not paid our service fee and went silent on payment after multiple follow-up emails which you can read below. It is obvious that he doesn't want to pay and is proud of his achievement as "Scammed an Agency". It seems like this 18-year kid from Moldova is learning more about doing frauds than learning good things. Hope his parents are aware of their son's fraudulent behavior.
Petru Pereu runs 3 YouTube channels – Crypto Flash, Flash Cash, and Flash Verse.
Latest Update: He now keeps his YouTube Video comments off so that we cannot comment on him being a Fraud.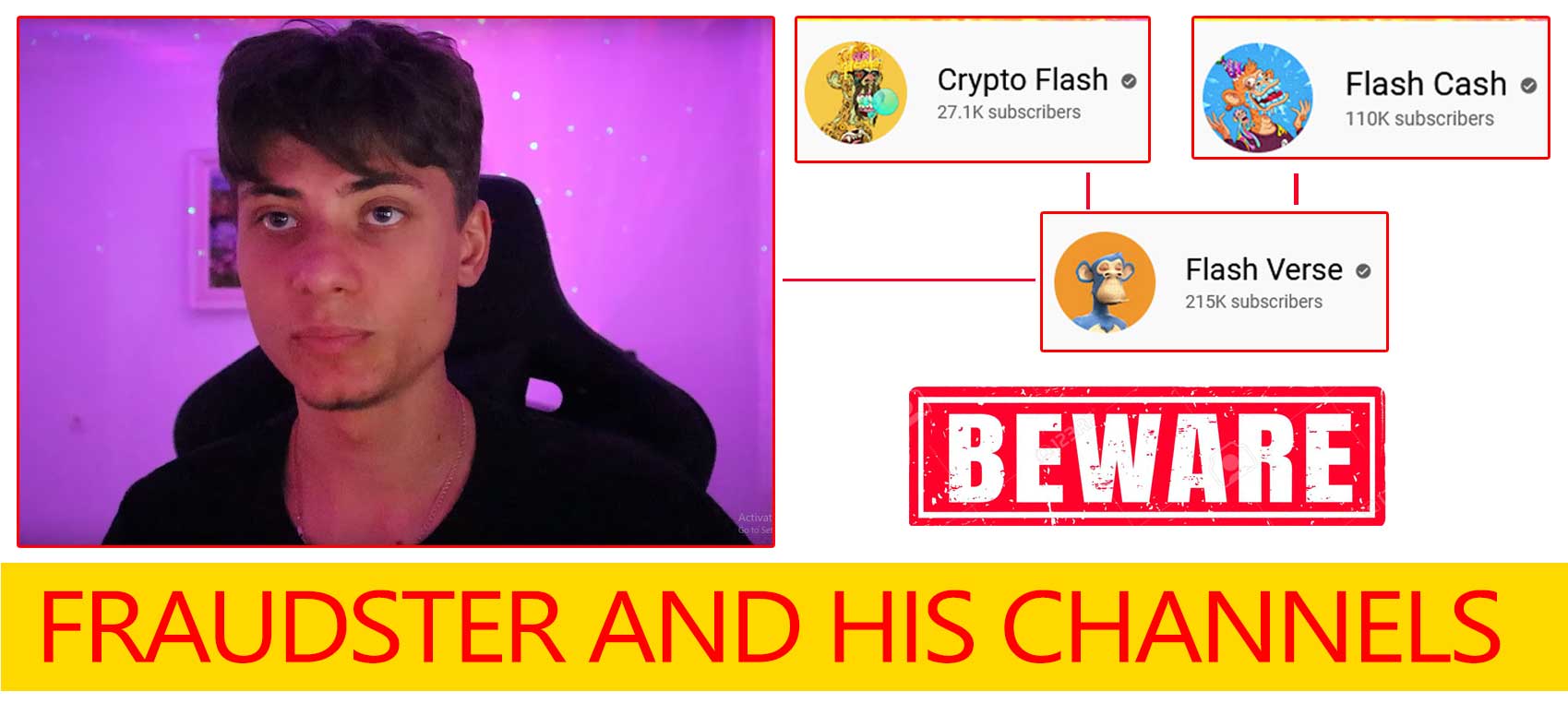 ---
We have compiled our Email conversation in PDF for reference. Download the conversation PDF below to read the whole conversation with Scammer YouTuber Petru Pereu and his YouTube Channels- Crypto Flash | Flash Cash | Flash Verse.
DOWNLOAD THE EMAIL  CONVERSATION  PDF TO READ IN  DETAIL
---
FRAUD YOUTUBER PETRU PEREU – CRYPTO FLASH PROFILE AS FOLLOWS:
Real  Name: Petru Pereu
Location: Moldova
Instagram Profile – https://www.instagram.com/p/CcImU1dDta8/
His  Crypto Flash YouTube Channel – https://www.youtube.com/c/CryptoFlash [ The Channel that  we verified and the payment he owes us ]
His Flash Cash YouTube Channel – https://www.youtube.com/flash-cash
His  Flash Verse YouTube Channel – https://www.youtube.com/Flash-Verse
His Telegram: @cryptoflashxx
His Twitter: https://twitter.com/flashcashy
His Discord: CryptoFlash#0001
---
TIMELINE WITH FRAUDSTER CRYPTO FLASH YOUTUBER
1. One of our sales representatives approached this 18-year-old Scammer Youtuber Petru Pereu through his email ID that he mentioned on his Crypto Flash YouTube Channel – https://www.youtube.com/c/CryptoFlash/about for his Crypto Flash Channel Verification. His channel has less than 100k subscribers which is a  default requirement to apply for verification. We offered him to verify his  YouTube Channel without any requirement of 100k subscribers on the condition that he will pay once his channel is verified. 
 The sales Email screenshot is attached below.

2. Scammer Petru Pereu a.k.a Crypto Flash was interested in getting his channel verified to which he replied back. We never knew this Youtuber is just an 18-year kid from Straseni, Moldova who turned out to be a scammer later.

3. Our Sales Team later shared all the details on how to proceed and other terms as well once he was interested and agree to pay if we verify his Crypto Flash YouTube Channel.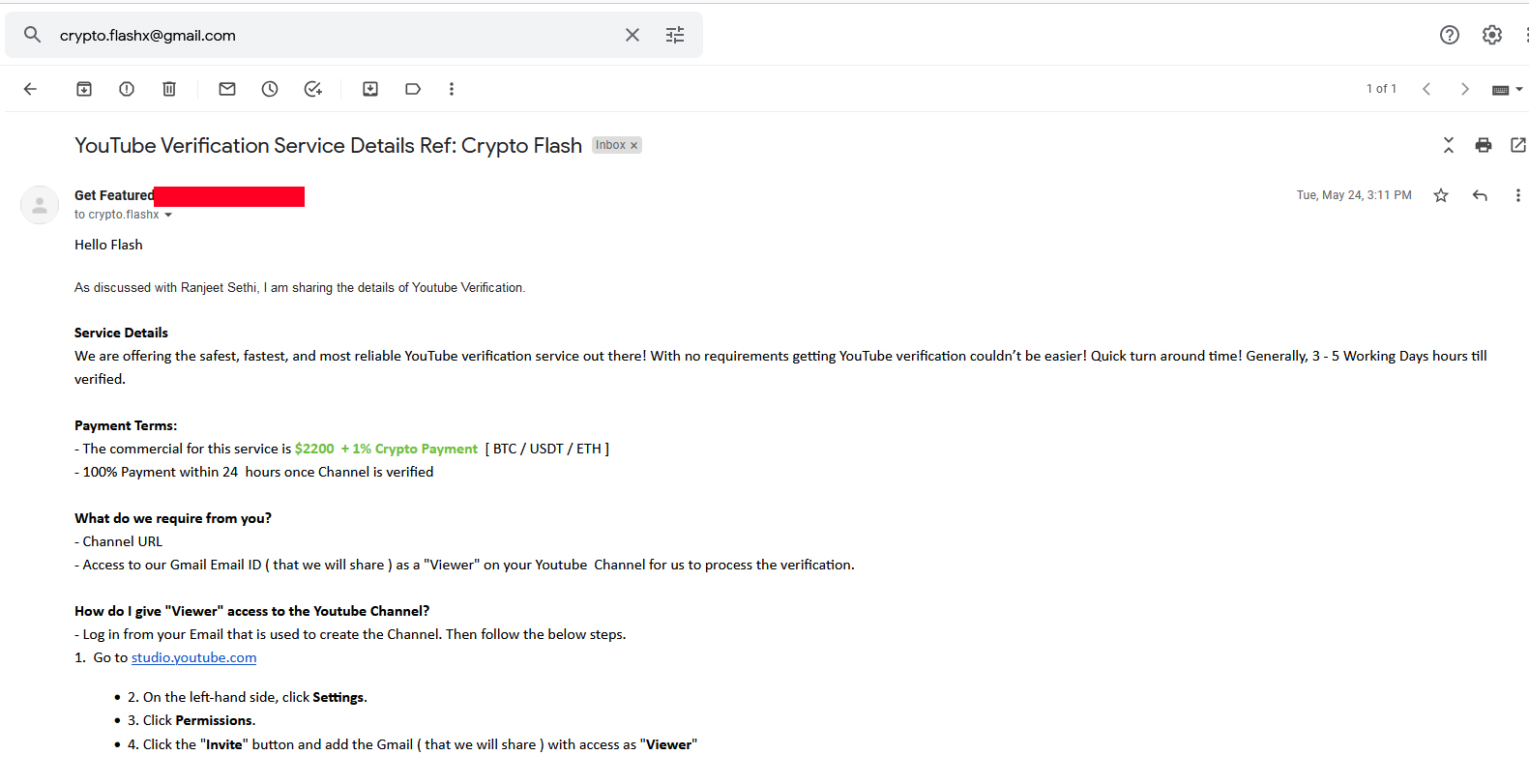 4. Fraudster Petru Pereu was not comfortable sharing the "viewer access" to the Channel which is mandatory for us to verify any Channel. We explained to him that this is a process for us to communicate on your behalf and get your channel verified which he was not comfortable with.

5. Suddenly after some Days, Fraudster Petru Pereu a.k.a Flash Verse approached us again and was ready to give viewer access for us to initiate the Verification Process where we retook the confirmation from him of paying our Service Fee before we process the Channel.

6. A series of emails were exchanged where we had to explain to this fraudster how to give access as a "Viewer" from the YouTube Channel which he was unaware of. After a few trials and errors, he was able to give us access to the channel to process the verification.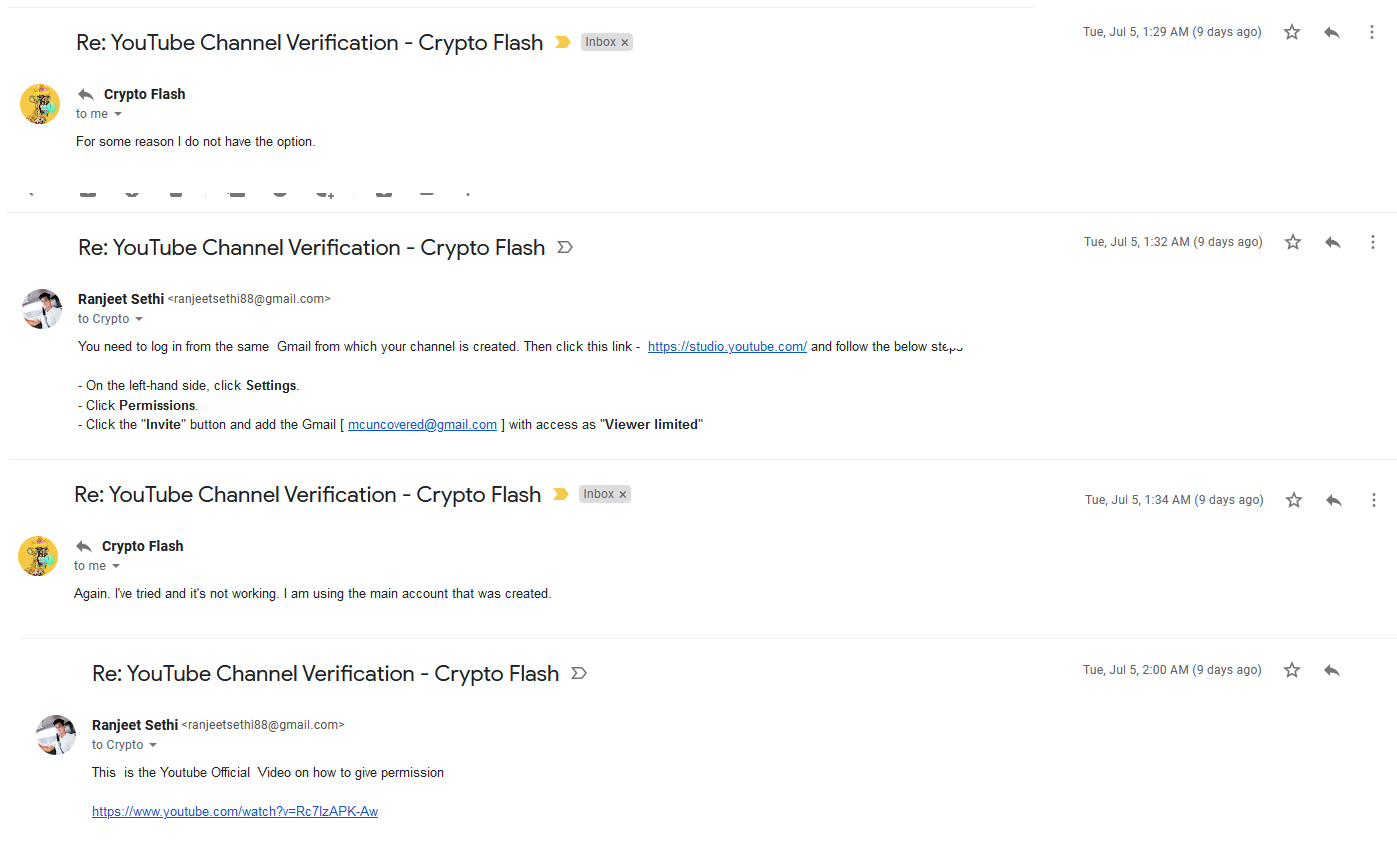 7. Finally, he gave us access and within  48 hours, we verified Petru Pereu's  Crypto Flash Youtube Channel.

8. We informed the same to Fraudster YouTuber – Crypto Flash, requesting the payment. This is the moment where we understood that this 18-year-old kid – Petru Pereu is a Fraud and does not wish to pay our Service Fee for verifying his YouTube Channel.
---
We advise everyone to Beware of this Fraudster  18 year Kid YouTuber

---